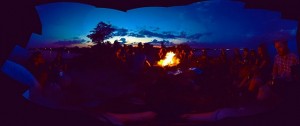 The BP birthday party in Humber park was a blast. For me, a new Torontonian, both the ride out and view of the city were amazing new experiences. The spit was filled with groups of pirates mingling and enjoying the night.
One pirate, James, snapped a few photos, including the one above. More can be found on his blog. Check it out!
UPDATE
Some additional photos from the event!