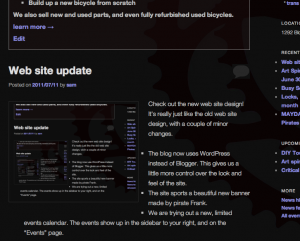 Check out the new web site design! It's really just like the old web site design, with a couple of minor changes.
The blog now uses WordPress instead of Blogger. This gives us a little more control over the look and feel of the site.
The site sports a beautiful new banner made by pirate Frank.
We are trying out a new, limited events calendar. The events show up in the sidebar to your right, and on the "Events" page.
Please let me know if you notice any issues, or have comments or questions! You can email me (scoskey@gmail.com) or leave a comment.