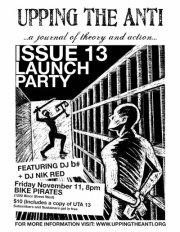 Come out on Friday, November 11th to launch our latest issue of the journal, lucky issue 13! We're launching at Bike Pirates. $10 gets you in and a copy of the journal.
As always, subscribers and sustainers get in for free.
Upping the Anti 13 includes:
– Erica Meiners, Liam Michaud, Josh Pavan, and Bridget Simpson on queer responses to sexual offender registries
– Sunera Thobani on the tenth anniversary of 9/11
– Nick Dyer-Witheford on the circulation of the commons
– Interview with Joaquin Cienfuegos on CopWatch LA
– Interview with Mikhail Bjorges on CUPW's 2011 strike
– Interview with Jesse Rosenfeld on Palestine solidarity and the Freedom Flotilla II
– Interview with Neil Smith on revolutionary ambition under austerity
– Roundtable with members of Queers Against Israeli Apartheid
Book reviews and more…
Putting out this issue was quite the labour of love, so please come out and help us celebrate its launch in style with DJ b# and DJ Nik Red.
See you all there!