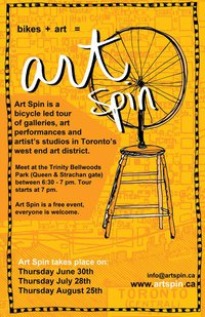 Thursday August 30th
Finale Exhibition August 30th
Again this month we are partnering with our friends at Dufferin Grove Park; meet there at 6:30pm, tour begins at 7pm.
The tour wraps up at around 9pm, which is when the after-party begins. The August after-party will be at our Finale Exhibition, with a top-notch location and plenty of wonderful participating artists.
Our Annual Art Spin Exhibition this year takes place on the evening of August 30th, it marks an opening of the exhibition, as well as a wrap-up party for the summer tours.
We promise we've secured a really exciting location for the show, and will be working with some wonderful artists, emerging and established, to create an exhibition you won't want to miss!
Stay tuned for more details as they come!