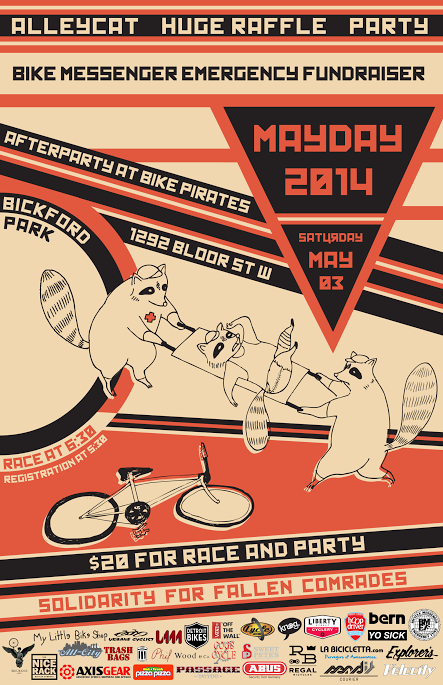 This year will be the 5th annual MAYDAY weekend to raise money for the BIcycle Messenger Emergency Fund.
To date MAYDAY has raised over $14,000 and this year will be even bigger and better!!
This years race will be more fun and less gruelling, the parties will have more "refreshments", the raffle has a new format (pick your own prize!) the bbqs will have even more amazing food on them and we will raise the most money to date!
ITS GOING TO BE AWESOME!!! So come ride bikes, get drunk, party with pals and show some love to your messfamily around the world who need your help when they are injured on the job.
For more info on the BMEF check out our website atwww.bicyclemessenger.org and our fb group here:https://www.facebook.com/groups/BicycleMessengerEmergencyFund/
Also please like our MAYDAY facebook group so you can get updates all year round.


https://www.facebook.com/MaydayTorontoABmefFundraiser?fref=ts
If you can't make it but would like to donate anyways please contact us for arrangements.
If you'd like to donate to the prize/raffle pool we are always looking so please contact us about that also!