One big final THANK YOU to everyone who put support behind the fundraiser as well as the move from Bloor Street to Parkdale!! Our Indiegogo Fundraiser Campaign ended January 3rd, and raised a total of about $6,800! All of the money (after delivering PERKS) will be going towards costs associated with cleaning, moving, renovating and setting up the new shop.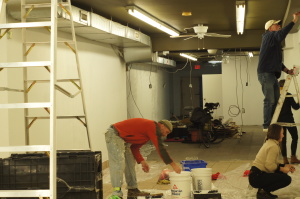 We rely on folks helping, reaching out, and donating to make our project a success. Thank you for putting up with all of the callouts and pleas for support!! You can continue to stay tuned here for updates on how the space is shaping up, what help we need, and when we will be opening!
Please be patient as we try to prepare the shop. We hope to have open hours again in the next few weeks.
For those who have claimed PERKS, we will be in touch some time in January. We want to get things delivered as soon as possible, but the screen printed materials may not be ready until February. Stay tuned.