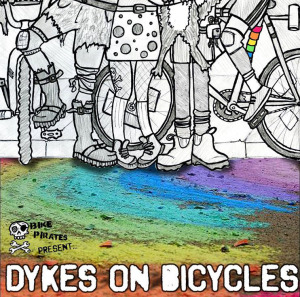 It's time to ride with pride! The Dyke March is happening again and Dykes on Bicycles is back to bring a strong visibility of the one, two and three-and-more-wheeled queers of our city.
The word 'Dicyles' is a term that includes, but is not limited to road bikers, mountain bikers, commuters, racers, cruisers, hybrids, tri-cyclist, cargo bikers, scooters, e-bikes, polo bikers, tourers, tandemers and tall bikers, BMXers, 3 speeders, single speeders, fixies, couriers and cyclo-crossers and all folks on wheels!
We are an inclusive contingent of the Dyke March. If you feel you belong on your bike, please ride with us. We will ride critical mass style in the Dyke March on Saturday July 2nd during Pride 2016. Are you from out of town? Hop on a BikeShare bike or borrow one from a pal.
THE MARCH – SATURDAY, JULY 2, 2016
12:00pm Sign-Making, Bike Decorating and March Prep (Bloor and Church)
1:00 pm line up at Church and Bloor
2:00pm Dyke March (Bloor and Church down Yonge to Allen Gardens)
4:00pm Post-march activities at Allan Gardens: drumming group, speakers, yoga, and.
Volunteer mechanics will be present before and during the ride for tire inflation.