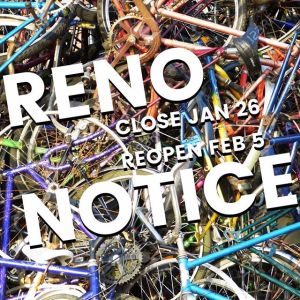 Friendly reminder Toronto! It's time for our annual winter renovation again at Bike Pirates, heads up this is your last full week to visit before we temporarily shut down on FRIDAY JAN 26
.
Our space will be one big mess as we clean, paint, and re-organize to continue empowering Toronto cyclists. Needless to say, all our bike tools will be put away until we re-open MONDAY FEB 5.
.
Want to help out? We really appreciate extra hands doing reno and have plenty of non-bike specific tasks planned. Our shop has a full kitchen and we'll happily cover daily grocery costs if anyone likes cooking vegan to keep everyone energized. Pirates will be at the shop guaranteed from 3pm-9pm daily during renovation so please just drop by!
.
Thursday Jan 25 is the last day of regular scheduled DIY hours until Monday Feb 5, tell a friend and please plan accordingly.