Bike Pirates will be CLOSED this weekend – OCTOBER 1 + 2 – due to a number of volunteers attending the annual Bike!Bike! Conference in Detroit!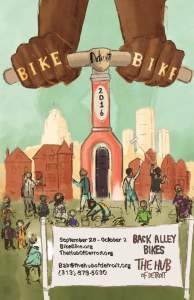 The conference is a gathering organized FOR and BY community bicycle projects like Bike Pirates (in fact, we hosted the conference in 2010), and gives us the opportunity to both share our knowledge and experiences, and glean new ideas, concepts, tactics, skills, and forge new relationships with other bike projects from all over the world!
We are very excited about this brief holiday and will be open again for regular shop hours on MONDAY OCTOBER 3rd.